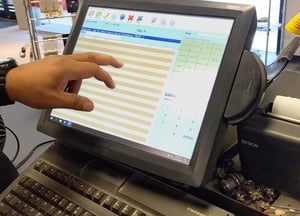 "I was really impressed with Solutions' commitment during the entire process… Our initial implementation was during a grand opening of a new store, and Solutions was onsite during the entire opening weekend to make sure those unforeseen issues were addressed promptly and the system continued to work."
- John W. Owen, President & CEO
Goodwill Industries of South Texas, Inc. was using a POS system that was in the process of being sunset. They needed to find a new system to implement in their 16 stores before vendor support for their old system stopped. In their new POS system, Goodwill Industries of South Texas wanted better loss prevention as well as better reporting capabilities. Although their old system had barcoding, it was difficult to print and scan labels.
Goodwill Industries of South Texas was looking for a uniform system to be used at all of their locations. In addition, they wanted to eliminate their problems with printing and scanning labels, and a central database for all of their reporting data.
Solutions ITW reviewed South Texas' needs and goals, and recommended the implementation of the full Solutions DGR suite. This includes point of sale, production and inventory management, and dashboard reporting.
After meeting with Goodwill Industries of South Texas, we specifically designed systems for them in order meet their specific set of needs. We worked to implement Solutions DGR Production and POS within the first month, and then, because of how easy Solutions DGR is to use, Goodwill South Texas employees implemented the system in their remaining stores within 3 months!
The results of adopting the Solutions DGR suite were:
A completely on-schedule implementation

Employee buy-in

Barcoding and labeling standardization

Store POS standardization

Centralized dashboarding

Fewer support calls

Better performance tracking

And dramatic ROI
After Implementing the Solutions DGR suite, Goodwill Industries of South Texas saw an average increase in sale price of 4.4% across all stores!
Want to read the full case study? Click the button below!
Or you can schedule a demo of our software today to learn how to bring these great benefits to your Goodwill organization.