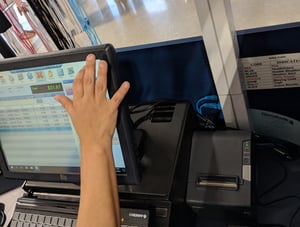 As a non-profit organization, Goodwill Industries thrives on the generosity of shopper donations. One of the ways Goodwill stores have been able to garner donations is through the process of voluntarily rounding up a purchase to the next dollar amount. While this process has helped Goodwills increase their revenue significantly, what if there was a way to make roundup even more effective for Goodwill stores?
Solutions DGR POS makes that possible.
As a company that is by Goodwill for Goodwill, Solutions ITW understands the need every Goodwill has for more money to fund their mission. Seeing the opportunity to help Goodwills increase their revenue from roundup, we have developed our POS software with the ability to manage roundup more efficiently. With Solutions POS, every shopper is given the option to round up their purchase to the next dollar, 3 dollars, 5 dollars, or 10 dollars. With this ability, Goodwill stores will be able to recognize an increase in roundup revenue.
In May 2018, Goodwill Industries of Ft. Worth had just seen a yearly total of $80,000 in roundup across 23 locations. Looking for a way to increase that number while also improving the efficiency of their POS system, Goodwill Ft. Worth contacted us to implement Solutions DGR POS in their stores. After implementation, with the same number of stores and over the same time period, Goodwill Ft. Worth saw $230,000 in roundup. That's an increase of $150,000 in one year!
Solutions DGR POS gives Goodwills the ability to better fund their mission through roundup. What could you do with an extra $150,000 for your mission?
If you'd like to learn more about how Solutions DGR POS can help fund your mission, don't hesitate to give us a call or schedule a demo online!